The central nervous system (CNS) or Vagus nerve is key to our well being in life. The CNS is a bit like an elastic band, if it's stretched beyond it's normal capacity or continually overworked it won't return to it's original condition. It's especially sensitive in the developmental stage in the first few years of life, as the baby feels-out its new environment, if it has prolonged exposure to stressors such as feelings of being unsafe, unseen, ignored, uncared for, emotionally abandoned or have absent caregivers, emotionally disconnected or physically abandoned especially from adoption or institutionalised care for longer than it can cope, this seemingly mild trauma can over-extend or stretch the CNS causing it to recalibrate and set what normally would be danger or life threatening in the majority of people as the new normal for the traumatised baby.
As the child grows this new normal, which is continually in the danger zone, this sense of danger over exerts the CNS and locks on the Sympathetic systems which would normally kick in when a person is in a specific dangerous or life threatening situation. This has significant debilitating health effects for that indivual, e.g IBS, diabetes, endocrine system exhaustion, ME, MS and other auto-immune type diseases.
There's another component to the vagus nerve that Dr Stephen Porges has researched and popularised called the Polyvagal Theory. Unlike most mammals that just have the two branches of the vagus nerve, in humans there's a third branch its function is somewhat metaphysical, it's the part that gives us our human connection, the family connection, it's sometimes called the social nerve, it gives us our sense of being, our sense of Self, our acceptance in this material world, it's like a mirror to our eternal non-material Soul, it's the nerve that lets you to "Be your Self"
Apart from the physical aliments and diseases developmental trauma causes, there's also the hard to measure and describe, hidden effects that severely hinder the individual from becoming a fully rounded adult that has acceptable social skills, confidence of Self, participation in society, willingness to get out from under their parents wings etc. If their own sense of being is not respected it will effect their personal boundaries, make them clingy, cause unhealthy dependency and/or attachments to people including child sexual predators who rely on the child going into the "Freeze" state along with the dissociation, shut-down, and/or hopelessness responses.
If the baby's sense of self-embodiment is disrupted or it's original connection to this material world is severed (abandoned) and is not sufficiently reconnected or worse still the new caregivers do not acknowledge the true Self in the baby and impose/project their image of what they want the child to be for them, then the social aspect of the nerve will continually struggle and be in conflict with it's normal original natural state versus the overexerted survival response and the need to adapt to the role the overbearing parents place on the child.
For example your individual vagus nerve (especially the social engagement part) is tuned into picking up your individual sense of Self, your sense of being, as it is 'broadcast' from the source of all things (yes its getting a bit more metaphysical) like a TV or radio is tuned to picking up a specific station from the many signals swirling around the sky. The birth-mother helps the baby tune into this signal, they have literally grown together as one body then they have an empathic mother-baby bond post birth, this is a chemical, biological and emotional bond, designed to help the baby learn/map their subjective feelings, emotions, and their physicalities, the mother correctly interprets and reflects back things like hunger, full, tired, lonely, need of love, pain, need for toilet, thoughts into actions, feelings, sad, happy etc etc.
An inattentive, emotionally absent, neglectful or adoptive mother who didn't/couldn't make a mother-baby bond will project onto the baby their own misguided interpretations of what the baby is subjectively feeling perhaps always feeding if the baby cries for love, attention or connection.
In the particular cases of adoptee parents there's often a underlying reason why they adopted, be it to fix a broken marriage, fill a unsatisfied hole they carry from their inattentive, absent parents, their lack of Self and using a baby to complete their image of a happy family. The psyche is deep and unresolved personal issues that they hope a baby will resolve will be projected onto the baby, as it adapts to please and be accepted in this new environment after the soul shattering sense of abandonment it felt when removed from it's true mother-baby bond. The baby's own individual true Self signal will be drowned out and this new dysfunctional one will be taken on as their own self, it will be a pseudo-self, a mask of persona that covers their true inner being that is compartmentalised deep inside. It is a built in primitive survival mechanism that goes all the way back into the reptilian, r-complex of the triune brain.
It was assumed that babies will not remember any life events and would not be effected by anything that happened or was done to them before 15 or so months old, the most horrendous and cruel example of this was up until 1986 in the USA babies under 15 months old were routinely operated on including major surgery without any form or anaesthetic. We now know trauma suffered in the preverbal stage is stored in the muscles as somatic memory, a felt memory without logic or reason or word to describe it, that can cause life long reflexive responses to who or what caused the trauma.
Secret psychological experiments were carried out on adoptees in the 60s and 70s to see how parenting styles would effect the psychology of a child (nature vs nurture) in the documentary Three Identical Strangers, triplets were adopted into different families, one warm and loving, one middle of the road, and one a cold indifferent career busy family. Like lab rats the children were observed and tested. I recommend the video below for a great summary of the film. Spoiler:- the child of the cold indifferent family committed suicide.
Recently the pernicious nature of this type of trauma has been brought further into general awareness. Below are two extracts from recent interviews which describe the deep dehumanising psychological effects.
Erosion of another's confidence in Self is, as Jordan Peterson states, is a sophisticated form of abuse. the transcript is below and it starts at 10:45
"if you know that you're a monster and that will manifest itself in your life consciously or unconsciously, if it's unconsciously it's not good, then you become better at disciplining children and the reason for that is that you don't want to expose them to your dark side. and so if they behave and don't provoke you which means they'll also behave for other people then your monstrous part can stay in abeyance and then that's great. But if you don't understand yourself as capable of wreaking havoc and that can be the kind of havoc that unfolds over decades, because if you're going to abuse a child it's the primitive form of abuses is the physical abuse. The sophisticated form of abuse is the continual undermining of the child's courage across perhaps their entire life and there's a terribly monstrous element to that and if you're not respected properly by the child, you will absolutely take revenge on them and that's the whole in some sense that's the whole Freudian psychoanalytic story"
To emphasise the depth of the trauma, in this clip Dr Stephen Porges describes this inattention to the connection that is the mother-baby bond is dehumanising, in the transcript below I have highlighted the pertinent parts. it plays from 27:35
"don't they feel the pains of others and the answers maybe they don't and the reason maybe they don't is maybe they've had traumatized series developmental histories as well and that they're really reenacting the trauma that has happened to them I think this is really a real tragedy in life because many of the people who are this aggressive to others hateful to others their lives have been really not they have not been lives of co-regulation and love and caring of others they've been lives of just trying to survive and often using the wrong metaphor the metaphor for so it's a real issue of for me when I see this I feel that with great compassion about but there are now basically people who are I don't even like to use word perpetrators I see this and I look at that and I say this is so sad their lives are so sad but then I go to the other one which is much more pragmatic I can have the compassion for them but I can't justify the amount of people the number of people that they're hurting the impact on the lives of others and that really bothers me a lot so you can say I can understand that I have compassion for you for you're doing or why you're doing it but I have a lot of trouble because you're hurting people and how can you hurt people and I think I hope more and more people will have an understanding of this I think the power of those who do that who marginalize who bully who isolate people to whom leave them treat them poorly to gain power over them I just hope that more more people understand that literally the vulnerability of those people and why they're doing that and not so in politics we were talking a lot of this there's always this pragmatic I can live with that if I get what I want and I think people have to just get beyond that they have to say I'll never get enough of you there I'll never get what I need in a culture it's not ok with me if you're hurting people it's just not right so we have to have some different levels of what Michael absolutes so we started off our dialogue about the biological imperative to survive was to connect with others and polarization is a violation of that biological imperative and we have to literally draw a line in that line in the ground is if you start doing things that hurt people it by it violates the imperative of what we came what we evolve to be on this planet we are connected species and if we don't appreciate that we are in a sense injuring the species and we have to take on a responsibility the bottom line is I think there are gonna be more and more people having this understanding because now you have with polyvagal theory and neurobiology that supports the philosophical and for many people even a spiritual religious view so you have a convergence of different orientations all ending up in the same point and this is polarizing people treating them as if they're not human marginalizing them isolating and bullying them is not how humans need or have to our cessation it's not really need or should if they keep doing that they can't be humans it's almost like you violate what it is to be a human so do you say it as an existential threat no I know I don't see it as an existential threat because I see it as something that will dissipate because I don't think it's sustainable the main point of this of the argument that it's a violation of of our biological imperative is that it's transitory and can't be sustained because being human is very powerful and this work comes originally from trauma understanding of trauma why does it apply more widely is it because we're all in a state of sort of low-level trauma or is it well what's interesting is my work didn't started try I'm one of the few people in the trunk world of trauma the world of trauma therapy or trauma theory that didn't come from initially from trauma I came from my laboratory science and my laboratory science led me into a model and that model was polyvagal theory is a model of the evolution of the autonomic nervous system but it was also a model that showed that under challenges the autonomic nervous system shifted States to more primitive and primitive states of survival and so that is how it got picked up by the trauma world because people experienced severe trauma or locked in these more defensive states and then polyvagal theory started to provide insights now you can move people out of those states and it says rehabilitate them to a more typical neural regulation and ith that more typical social and emotional behavior so because it was a general model of how the million autonomic nervous system works under challenge it has great generalizability so it has a generalizability not merely in the world of trauma but has a generalized ability in the world of education the world of medicine and what I like to see moving into is actually a world of social politics or social justice is really what we're talking about because it's providing a different type of manual of what it is to be a human being so it's not a manual that's based upon you know certain principles of that our moral principles it's on principles of what our body needs based upon our evolutionary history and when those principles kind of line up with moral principles it's a beautiful story it says our bodies need to correctly we need to feel safe with others we need to be safe in the arms of selective people not everyone we need time together where we feel safe and we can and this will help us grow and digest and will help us learn it will help us solve problems and be creative it will help us people and will enable us to be curious and what are the key things that you think people need to know about that your work sheds a light on I think the the major point they need to know is that when you shift physiological state it shifts your bias of how you see the world so if you move into a physiological state that is more defensive you see the world much more negatively and if you see the if you shift into a physiological state as well coagulate with other people you see the world in a much more positive optimistic perspective I think as people understand that they'll start understanding the relative import the relative way we see the world s so physiologically dependent that we'll go back to that statement better living through neurobiology we would want a life in which we saw the world in a more positive way and then we had a more positive view of our purpose in life a more positive view of learning and curiosity and a greater acceptance of other of witnessing others and enabling people to be different than whom we are.
This dehumanising, neurotic and narcissistic type trauma is so damaging as it removes or replaces the normal levels "will" (will-to succeed, will-to-life, will-to-please, will-to-power) with the will of the parental force imposed upon them, what remains in the child as their own will is the will-to-survive this is necessary in the first stages of life where survival is needed, but as the child grows and does not have its own "will" or self determination, always bending to the will of another, maybe through shame or guilt, the will-to-survive turns into primitive aggression, which can be turned outward to destructive, aggressive words actions and behaviours to others or inwards to self-destruction, self-harm, drug & alcohol addictions, or destructive relationships. Even though the child or young adult can reason and use logic to see their behaviours are not good for them, the primitive drive is so strong it will constantly try to dominate until that trauma can be resolved.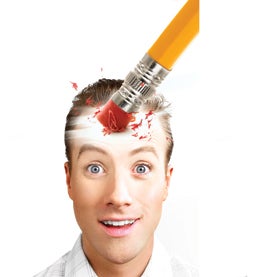 It is unfortunate some people continue to blame the victim in their adult years claiming things like, "you shouldn't let your past effect you now" "you were to young to remember – how would you know what actually happened" "forget about it" and other ignorant remarks. It is victim blaming and does cause subliminal re-traumatisation. I personally would go into a freeze state unable to cobble together a cogent response, but recently I have asked the 'victim blamer', could they "forget about" speaking their own native tongue and only speak in a completely different language from now on? They always answers NO. Language is one of the first things we learn but the pre-verbal trauma described above is a few levels deeper than learnt language, ask them to "forget about" how to digest food, how to focus their eyes, how to breathe the way they do, as that's what they are casually asking us to do.
People who have suffered this early pre-verbal trauma often look very well 'put-together' have a job, do OK in life, can deal with later traumas that would send a normal person to suicide, as they have their entire life to adapt and cope and develop dissociative strategies that can see them through a stressful situation. But they have internalised all that stress into their autonomic systems, which are likely to breakdown early into auto-immune diseases if the addictions don't get them before.
I will cover healing recovery, recalibrating and other rehabilitations methods and mechanisms in the next post.